We offer design-oriented capacitive keyboards and classic touch input systems for applications with high mechanical stress. In the touch panel area you will find resistive and capacitive touch screens, which are available either as a stand-alone product or as an integrated solution with a customized membrane keyboard.
Please let us know the desired size and any technical specifications for your individual touch panel solution. We will contact you immediately to make you a suitable offer.
TFT displays with touch function can be found in the product area Optoelectronics >>
Touch Panel
Capacitive keyboards
module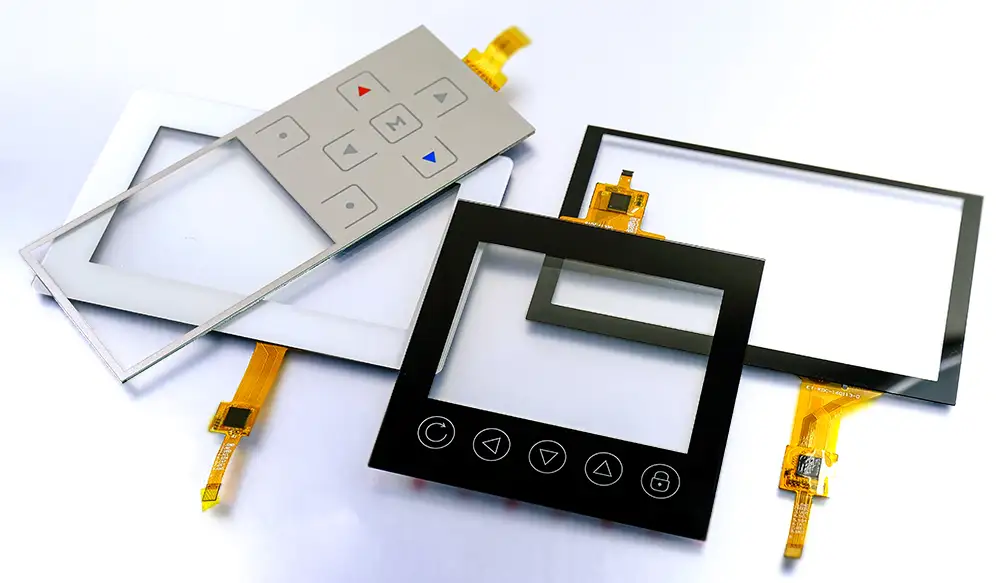 We can offer you touch panels in both resistive and capacitive sizes in customer-specific sizes. Also an individual printing of the frame or a combination with a membrane keyboard is possible.
Sizes from 3,5″ to 21″
Aspect ratio 4:3 or 16:9
With individual printing or with membrane keyboard

Resistive touch screens
Structure: film-film / film-glass / film-film + PC/glass
Each structure can be laminated with a graphic overlay. Currently the maximum size is 21″.
4-, 5-, and 8-wire touch screens
Lifetime of up to 35 million touches (with 5-wire touch screens)

Resistive touch screens (PCAP)
Structure: PET glass / glass film (maximum size 12″)
Construction: glass-glass (maximum size 21″)
Multi-touch with up to 10 touch points
---

A capacitive keyboard is realized by an electrically semi-conductive surface material, such as glass or plastic. Under the front material are capacitive sensors and evaluation electronics that simulate input fields. In principle, they work in a similar way to capacitive touch panels, in which a change in capacitance of the electrical field is generated by touching or approaching the finger.
In contrast to membrane keyboards, capacitive keyboards do not offer any tactile feedback. However, this can be replaced by acoustic or optical signals. Thanks to the wide range of options for designing button shapes, control elements such as sliders, wheels and touchpads, as well as the graphic design of the foil, there are hardly any limits to creativity. Depending on the surface, different shapes can also be realized. Especially in the field of medical technology and chemical industry, capacitive keyboards with glass surfaces are preferred because of their flat and resistant surface.
For capacitive keyboards with metal fronts, such as stainless steel or aluminum, touch-sensitive sensors are used that detect surface deformations. In this way, input units can also be operated with gloves and are particularly robust against environmental influences. Surfaces made of pure plastic or a combination of plastic and metal are also possible.
Membrane keyboards – the perfect addition to touch
If more complex menu navigation is required, a membrane keyboard can be combined with a touch display. As a keypad, the membrane keyboard enables quick access to frequently used input commands or preset parameters, while the touch display supports interactive communication thanks to its graphic visualization options.
In order to ensure a consistent surface, the film and display are connected by integrated viewing windows with a highly transparent adhesive layer. Depending on requirements, these windows can be designed with a glossy, matt, anti-reflective, scratch-resistant, UV-resistant and individual color finish. Even when the black display is switched off, the membrane keyboard contributes to significant design aspects.
We would be happy to advise you comprehensively on the subject of HMI input solutions and help you to find the best solution for your requirements.
More on this topic:
Membrane keyboards – the perfect addition to touch >>