For design-oriented applications and input devices  we offers capacitive keyboards and touch panels.
In the field of touch panels, we offer resistive and capacitive touchscreens both as a single product or as an integrated solution with a customer-specific membrane switch .
You can find TFT Displays with Touch-Function in our optoelectronics product range  >>
We offer customized touch panels in many sizes.
Also an individual printing of the frame in possible.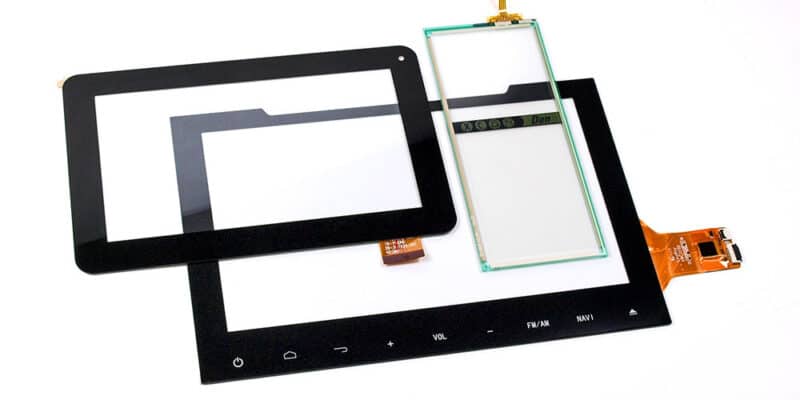 Resistiv vs. Capacitiv
 
Resistiv Touchscreen
Capacitiv Touchscreen
Available technologies

Film to Film, Film to Glass
4-wire, 5-wire oder auch 8-wire Panels
max. size: 21"

Glass to Glass, Glass to Film
chemically hardened coverglas / optional  (0.55 - 3.0mm)
max. size 12" -  21"

Function
Advantages

Comparatively cheap
Insensitive to dirt, dust and moisture
Use with fingers, gloves and other items

very high transparency and visibility
Multi-touch effect: the screen can be operated with up to ten fingers at the same time
more resistant to liquids, chemicals and dirt and easy to clean
due to different cover glasses also vandal-proof versions possible

Disadvantages

Softer surface is needed for pressure release
lower light transmission and lower contrast
less resistant to chemicals
no multi-touch function possible

Operation only possible with fingers and especially conductive pins
Costly

Application
Point of sales terminals, building automation, medical technology
Smartphones, Tablets, Organizer
For design-oriented applications and input devices  N & H Technology offers capacitive keyboards. They are realized by an electrically conductive surface, such as glass, metal or plastic. These capacitive sensors simulate the input fields. The change in capacitance of the electric field takes place by touching or approaching the finger. Unlike membrane switches no tactile feedback takes place. However, these can be replaced by an acoustic or optical signal. Capacitive Keyboards can be made in various keys forms and shapes. Operating modes such as Slider, Wheel and touchpad can be added.
Metal over Capacitive (MOC)
Through a new, touch-sensitive sensors, capacitive input solutions with metal fronts made of stainless steel or aluminum are possible. A very sensible sensor recognize a deformation of the surface. It can be used with gloves and is extremely resistant to environmental influences. Plastic surfaces or combined surfaces of plastic and metal are possible.
Touch panel with membrane keyboard
Especially for ​​HMI devices, membrane keypads with integrated touch screens can make user-friendly menu navigations. Input commands or preset parameters can be easily and clearly accessed. Thus, even complex menu controls with submenus can be solved in a user-friendly way.
For a touch screens version, windows can be integrated into the membrane keyboard. Depending on the requirements, these windows can be specified glossy, matt, anti-glare, scratch-resistant, UV-resistant and colored.
The combination of membrane keyboard and touch screen is realized by a highly transparent adhesive layer with a light emission of> 99%.
This process avoids the formation of Newtonian rings. The bonding takes place in clean rooms.
On the basis of your sample, your specification or technical drawing, we will create an individual offer and support you during the project.
We advise you on the selection of suitable materials and offer cost reduction options. We offer you an active co-operation in the development and construction and give suggestions for improvement.
For a technical consultation please contact us by phone: +49 (0) 2154 - 81250. Also a personal meeting in our office or at your place is possible by appointment.
For an offer we need:
technical drawing, sketch or pattern
technical specifications, equipment extras
required amount
Please send following informations to: info@nh-technology.de
One of our engineering experts will contact you asap.

Of course, you can also use our contact form