We realize customer-specific silicone keymats
Benefit from our many years of experience and expertise.
Always our core competence
Silicone keymats have always been one of our core competencies and we support and advise you extensively on equipment and material selection. We can also take over the complete development and construction of a suitable silicone keyboard for your application.
The single, classic silicone keymat is still one of the most common switching elements in the electronics and automotive industries. As the central component, it triggers a direct switching function on the circuit board underneath and determines the haptics, the visual and tactile impression and the electrical behavior via the integrated contact elements. In addition, the safety mat often assumes a sealing function on the printed circuit board.

Silicone keyboards are often used in devices and instruments where easy and reliable operation is required. They are used, for example, in remote controls, industrial controls and electronic measuring devices. In addition, silicone switch mats enable noiseless operation, which is advantageous in some areas of application such as medical technology or audio engineering.

References
Benefits
Specifications
Design
Service
Our silicone keymats are used in almost all industries. Here you can see a small excerpt of our references:
Silicone keyboard as front panel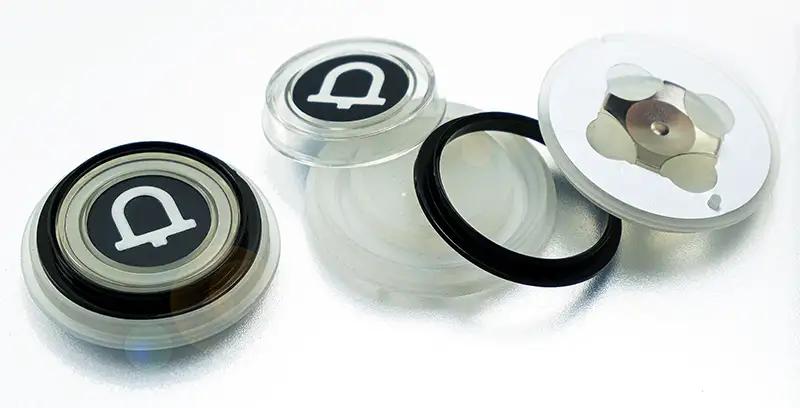 Realized single button based on a silicone safety mat with a plastic cap
Benefits of Silicone Keypads
Flexibility

Silicone keyboards are extremely flexible and can be made into a variety of shapes and designs. In addition, the keyboards adapt perfectly to the housing construction.

longevity

Silicone keypads are very durable and resistant to wear, scratches and other damage. In addition, they have a resistance to moisture, dirt, chemicals and thermal influences. Its high mechanical lifespan of up to 10 million switching cycles makes it a long-lasting solution with a low maintenance risk.

tactility

Silicone keymats provide excellent tactile feedback. The actuating forces (force-displacement behavior) can be flexibly selected from 20g - 500g, the key travel from 0,3 to 5,0 mm. The buttons can also be made with different heights and contours to provide an enhanced user experience.

Electrical contacting

Diverse implementation options for electrical contacting - from inexpensive carbon printing to high-quality metal contact pills with a current carrying capacity of up to 2A. The use of metal snap disks or the actuation of a tact switch is also possible.

Lighting

Selective or homogeneous backlighting of the keyboard or individual keys is possible without any problems.

Waterproof and dustproof

Silicone is naturally water-repellent and dust-proof. Therefore, silicone keymats offer some protection against moisture and dirt ingress, which increases the longevity and reliability of electronic devices.

Easy to clean

Thanks to the water-repellent properties, silicone keymats are easy to clean by simply wiping with a damp cloth. This is particularly important in environments where hygiene is an issue.

Low noise level

Silicone keymats generally produce little noise when the keys are pressed. This can be particularly important in environments where quiet operation is required.
As a central component, a silicone switching mat triggers a direct switching function on the circuit board underneath and determines the feel, the visual and tactile impression and the electrical behavior. In addition, the safety mat often assumes a sealing function on the printed circuit board. Its mechanical service life of up to 10 million switching cycles makes it a durable and almost maintenance-free input solution. It adapts to your design and is extremely flexible and space-saving.
For high quality keyboards we offer
Metal and plastic keycaps
in different shapes and colors. We can easily implement individual button colors and shapes in a mat. To the
keyboard light
To optimize, we use LEDs in connection with transparent silicone or integrated light guides. With our precise 2K injection molding process, we can realize multi-colored keyboard lighting and integrate a light channel into each individual key. This channel is isolated from the rest of the transparent button and allows the light beam to be precisely focused. Our safety mats with this technology can not only be backlit, but also display status displays.
force-displacement behavior
Actuating forces from 20g to 500g
Key travel from 0,3 to 5,0mm

The force-displacement behavior of a silicone keyboard can be customized to the requirements of the respective application. So actuation forces from 20g to 500g and Actuating paths (key travel) from 0,3 to 5,0mm possible. A short key travel means the keys are easy to press and require less effort to activate a key. This can be particularly advantageous for devices with many buttons, in order to ensure fast and convenient operation. However, the key travel can also be adjusted depending on the need for precision and tactile feedback. In some applications, a longer key travel may be required to provide better feedback and tactile feel when pressing the keys. Therefore, key travel can vary depending on the application and is usually specified in the circuit design process to ensure the best possible user experience.

contact pills
Current carrying capacity up to 2 A

The implementation options for the electrical contacts range from inexpensive, yet safe carbon print to high quality metal contact pills with a current carrying capacity of up to 2 A. Carbon printing is often used on silicone keymats to offer a cheap alternative to metal contacts, especially in applications with lower electrical conductivity requirements. The advantage of carbon printing is that it offers high flexibility and durability, which is ideal for use in electronic input devices. Another important feature of carbon printing is that it has a very low profile, which helps the buttons on silicone keypads to be flat and easy to press.

Silicone Keypad Design
Silicone keymats adapt to your design and are extremely flexible. Different key shapes and individual key colors as well as multicolored keyboard lighting can be implemented without any problems. We support and advise you in detail with the equipment and the choice of material for your silicone keymat. We can also take over the complete development and construction of a suitable silicone keymat for your application.
Silicone keypads with plastic or metal caps
Plastic or metal buttons allow silicone keypads to be individually adjusted for various input commands. These keys can be easily painted with a wide range of symbols and colors, allowing extensive creative freedom. As an alternative to metal caps, it is also possible to chrome or metalize plastic buttons. For a night design, the keys can be labeled using laser engraving, giving them an attractive and functional aesthetic.

---
Silicone switch mats with epoxy coating
Special surface coatings, such as PU or epoxy coating, make the keys permanently abrasion-resistant and create a high-quality 3D look. In addition to a high-quality and glossy surface, the individual keys convince with optimal finger guidance and a pleasant feel.

---
Silicone keymats with multicolored keyboard lighting
Through a very precise 2K injection molding process, a silicone keymat can have a multi-colored keyboard light. The process enables a light channel to be integrated into each individual button. This light channel is completely isolated from the rest of the transparent button and achieves a precise bundling of the light beam. Safety mats with this technology can now not only be backlit, the individual buttons can also display status information.

---
Silicone keyboard with laser engraving
Easily recognizable key symbols are essential, especially in diffuse working environments. One possibility for homogeneous backlighting is laser engraving. The key symbols are lasered in order to be able to backlight them. Very filigree inscriptions are possible with the laser.

---
Highly transparent silicone keymats
Ideal for backlit keyboards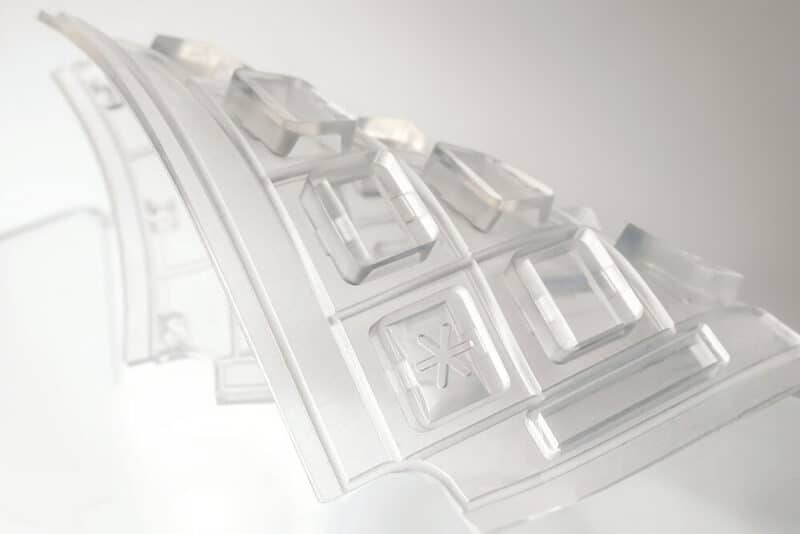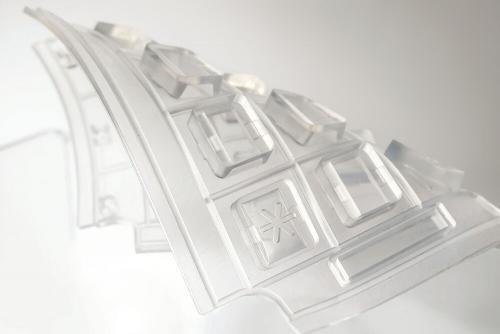 Highly transparent silicone keymats are an interesting option, especially for backlit keyboards. So far, transparent silicone keymats have tended to be milky, which leads to scattering losses from the light source. Highly transparent safety mats, on the other hand, offer minimal light scattering, which means that almost all of the luminous flux reaches the surface. This makes them particularly interesting for brightly lit work environments or for use in daylight. In addition, the integration of light channels can be dispensed with, resulting in a closed surface.
Thus, such a silicone keymat offers extensive protection of the underlying electronics from dust and moisture. The lighting can also be easily implemented using status LEDs in existing components, so that fewer individual components are required. The material is also particularly suitable for switch mats with key caps made of plastic or metal, as well as paint finishes in night design.
---
Phosphorescent silicone
It is also possible to manufacture silicone switch mats from phosphorescent silicone. The silicone is charged by sunlight or artificial light sources and glows in the dark for several hours, depending on how charged it is. Such keyboards are used in the field of security and building control technology, as well as in consumer products. With appropriate painting in the night design, for example, the lettering on the keys can also glow.

---
Silicone keyboard with light guides
Light guides, individual light guides or even optical fibers enable the selective, homogeneous illumination of a key. This light guide equipment is particularly useful in applications where precise and uniform lighting is required, such as vehicle control panels, industrial controls, and high-end keyboards for computers or other electronic devices. We can produce matching light guides for custom silicone keypads and keycaps.

---
Silicone keyboard with front frame
Practical solution: silicone keyboards with front frame as an assembly. The plastic front panel with integrated mounting sockets is overmoulded with silicone. This creates an optimal bond between the individual components and a completely closed surface. The keyboard is protected against the ingress of water and dust, enabling quick, easy and thorough cleaning.
The individual keys can be painted, printed or lasered in a further processing step. In addition, special surface coatings with PU or epoxy coating are possible. The advantage of multi-component injection molding technology is that only one component has to be designed. This significantly reduces the investments and the effort for production and quality assurance.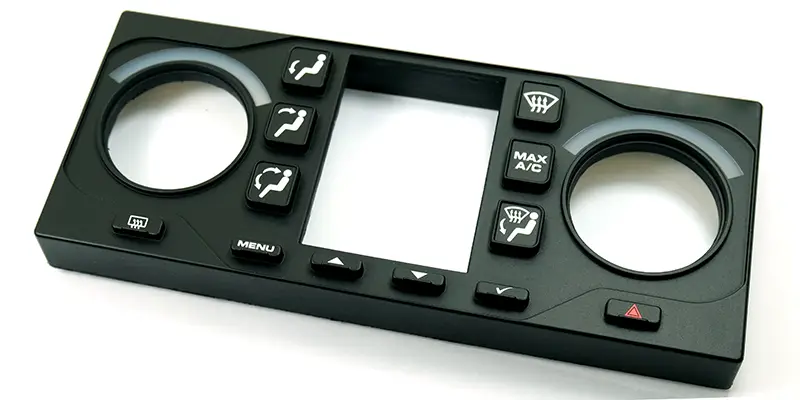 Development

Thanks to our many years of expertise in the field of silicone keymats, we can offer you a comprehensive full service offer. Our engineers actively support you in the design and construction phase and in the selection of suitable materials.
Our product Designer can design your silicone keymat according to your wishes or revise the design or construction of an existing input solution. You have the choice of using our development and design services individually or as part of a more comprehensive support through to series delivery.
Our range of services includes sketching, conception, planning and preliminary construction, 3D/2D CAD design, realistic 3D renderings of product views and the creation of production documents such as technical drawings and parts lists. We can also produce prototypes using 3D printing or silicone casting.
We'd be happy to do that too complete assembly with matching Plastic housing and the connection technology.
For a first Packages we need a technical drawing, a first sketch or a sample as well as a specification sheet, technical specifications and information on extra equipment. Please also tell us the required quantity or the annual requirement. We would also be happy to conclude a non-disclosure agreement / NDA with you.
Contact us under info@nh-technology.de. We look forward to your inquiry!
The N&H sample set includes a special sample silicone keymat with a variety of buttons and constructions, as well as a sample membrane keyboard with the various equipment options.
---
Publications on input keyboards