We specialize in the design and manufacture of a variety of metal components. These include housings, die-cast parts, stamped parts, deep-drawn parts, turned parts, milled parts and contact springs. Our range of services includes the manufacture of the smallest precision parts as well as large parts. In addition, we offer partial or complete plastic and rubber overmoulding of metal parts.
To complete the metal parts, sealing elements, threaded inserts and bearing bushes are integrated. We also offer cold pressing processes and enable cost-effective surface finishing.
We accompany our customers throughout the entire project process and organize the tool and sample production as well as the production and optionally also the assembly of the serial parts. In order to create an offer, we need either an initial technical drawing or an existing sample. However, if you do not yet have such a template, our product designers can also take over the construction and development of a suitable molded part for you. We look forward to your Inquiry.
More about our services

We offer
References
multicomponent
Overmolded metal parts / multi-component injection molding
Housing made of aluminum and other metals
Technical shell housing including shielding and heat dissipation
Metal die casting (Zn, AL, MG alloy)
Aluminum heatsink
Stamped parts, deep-drawn parts, turned parts, milled parts
Precision stamped and bent parts, bent wire parts
Extruded parts, extruded housing
Electrical contacts, plug contacts, pin contacts, battery contacts
Mounting clips and springs
Springs: Tension springs, contact springs, torsion springs, compression springs, micro springs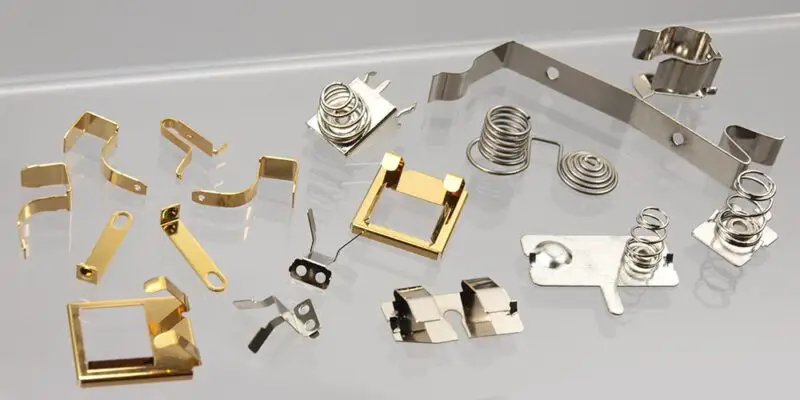 Housing: upper part made of plastic injection molding and metal plate as lower shell

Overmolded metal parts / multi-component injection molding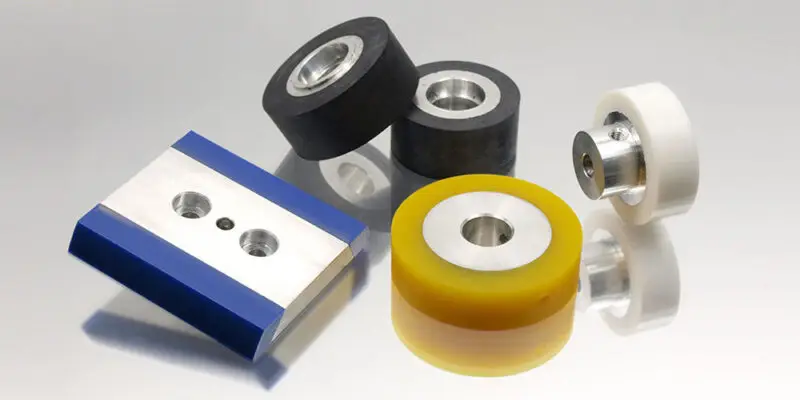 Multi-component injection molding combines the positive properties of Acrylic and elastomer or metal in a component. This opens up a wide range of application examples.
Multi-component molded parts often appear together where the properties of a single component are not sufficient. The hard component to absorb mechanical loads, the soft component as a seal, protection or damping. In a large number of cases, two separate components are designed for this. This leads to additional investment and effort in production and quality assurance, which can, however, be reduced through clever design in the development phase.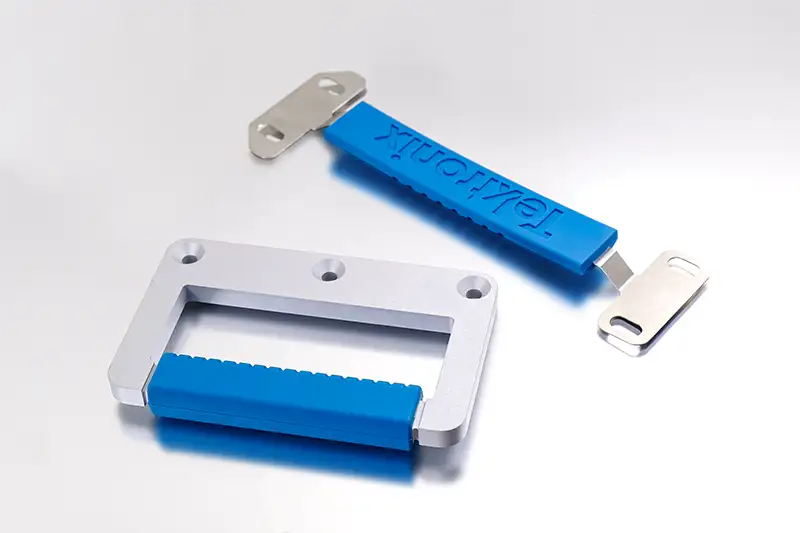 Insert & outsert technology
Metal and plastic parts are firmly connected by insert technology. Threaded sockets, screws, plug contacts or various inserts are placed in an injection molding tool and connected to the thermoplastic substrate.
Outsert technology is similar to insert technology, in that plastic elements are also injected onto a metal carrier. The difference is that the metal insert has a larger volume than the plastic. In addition, we also supply machined metal components in elastomer composites. The basis for these components is a milled metal component (e.g. stainless steel, aluminium-zinc or copper alloys), which is firmly bonded to the elastomer. Common materials are, for example, silicone, EPDM, NBR etc.
Combination of different color and hardness variations
The different color and hardness variations of the soft component result in numerous variants that can be specifically tailored to the requirements of customer-specific applications. Certain damping characteristics, for example, can be achieved by selecting suitable elastomer materials. The milled metal base allows classic shaft-hub connections or screw threads for connection to peripheral elements. Further applications are sealing elements in mechanical and plant engineering, shock absorbers in the automotive sector or transport rollers in industry.
2K and 3K molded parts
We offer proven manufacturing processes to combine several components in one product and have many years of experience both in plastic injection molding and in the production of technically demanding silicone components. Even projects with 3 connected materials are no problem. For example, metal elements can be overmoulded with plastic and at the same time equipped with an elastomer seal.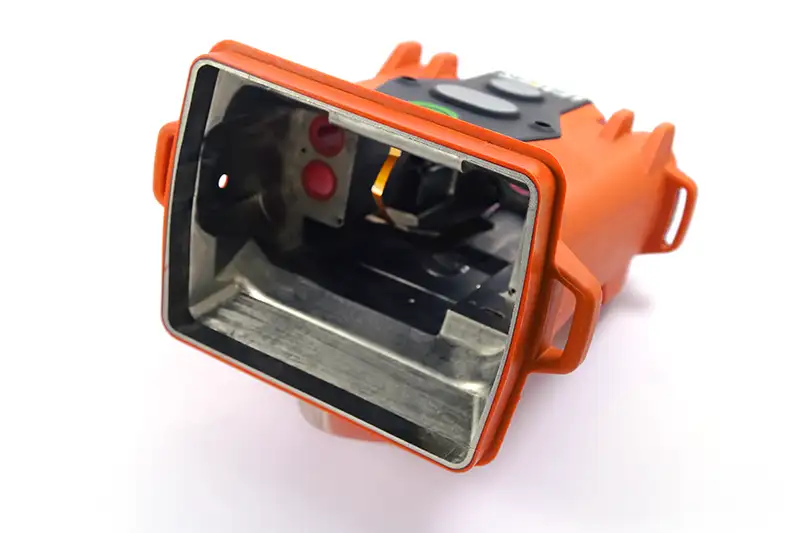 ---
About metal moldings
Metal molded parts are a central component in manufacturing technology. These parts are made from metal using specific shaping and can be designed from various materials such as steel, aluminum, copper or brass. This diversity allows for an enormous range of shapes and sizes, tailored specifically to the needs of different industries.
There are many different technologies for producing metal parts, such as casting, rolling and deep drawing. Each of these technologies has its own advantages and disadvantages and is suitable for different applications.
In the production of Die-cast parts The preparation of the molds plays a central role as it determines the final shape of the part. In the next step, the liquid metal is injected into the mold under high pressure, where it hardens. After cooling, the part is removed and post-processing is carried out to achieve the final specifications. This process enables the production of complex parts with high precision and excellent surface qualities.
In the manufacture of stamped parts A punching tool is used to cut parts from a metal roll or sheet. Stamping technology allows parts to be produced quickly and in large quantities, making it a cost-effective method for mass production.
The Deep drawing process is a type of forming technology in which flat sheets of metal are clamped in a press and formed into a deep-drawn shape using a die. This enables the production of complex, three-dimensional parts with high precision and is particularly suitable for the production of hollow, symmetrical components.
Turned parts are manufactured using a machining process in which the material is removed from a rotating workpiece. This is usually done on a lathe, and allows for the creation of very precise and complex parts.
In the manufacture of milled parts The material is also machined, but here the workpiece and not the tool is turned. By using modern CNC milling machines, very complex parts can be manufactured with high precision.
Contact springs are usually made through a specialized forming or stamping process in which a metal wire is shaped into the desired shape. The subsequent heat treatment serves to give the springs the required elasticity and strength. After this process, the springs can be further machined or refined as needed to improve their performance and lifespan.
Finally, at the Plastic and rubber overmolding of metal parts the metal components are covered with a layer of plastic or rubber. This is usually done through injection molding, in which the plastic or rubber is injected into a mold in which the metal part is already located. This technique offers several advantages, including improved corrosion protection, increased electrical insulation and a more pleasant feel of the final product. In addition, this method can expand the functionality of the part and improve its aesthetic appearance.
Molded metal parts are used in many different industries, such as the automotive industry, mechanical engineering, electrical engineering and electronics, aerospace and medical technology.
We produce metal molded parts, plastic injection parts with metal inserts, metal precision parts, metal stamped parts, hard metal precision parts, CNC turned parts, precision deep-drawn parts, assembled metal parts for electronics and electrical engineering, metal housings, extruded housings, precision metal parts, metal springs, metal contacts, stamped and bent parts made of stainless steel, Stamped parts made of stainless steel, rubber-metal seals, plastic-metal connection technology, rubber-metal connections, rubber-metal rollers, rubber-coated metal rollers, rubber-metal buffers, plastic-coated metal parts, hybrid assemblies.