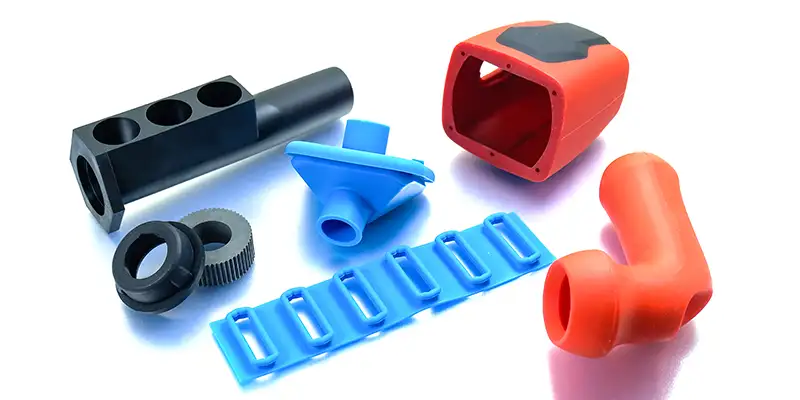 Rubber parts and silicone parts have many positive properties, such as high elasticity, good resistance to heat and cold, high chemical resistance, good aging resistance and high tear strength. These properties make silicone molded parts very versatile.
We manufacture custom rubber parts, silicone parts and elastomer composite parts. We can help you with that small and medium quantities offer attractive conditions. Our dedicated team will provide you with comprehensive advice on the selection of the optimal material that will withstand the requirements of your functional description, temperature resistance, chemical resistance, weather influences and load.
For an individual offer, we need either a technical drawing of your component or an existing sample. However, if you do not yet have such a template, our product designers will be happy to design and develop a suitable molded part for you.
More about our services

silicone moldings
References
Covers
2K injection molding
Service
We manufacture custom rubber parts, silicone parts and elastomer composite parts, such as:
Protective cases for input devices, protective covers for keyboards
Individual shapes and products made of elastomers
Gaskets, Gaskets, Rings, Rubber Rings, Grommet Rubbers
Grommets, flanges, bellows, bellows, molded hoses
Rubber dampers, rubber castors
Multi-component injection moulding:
combined rubber-metal parts / rubber-plastic parts
We process all common materials in various hardnesses (ShoreA), such as e.g.:
Standard materials such as NR, NBR, BR, EPDM, CR etc.
Elastomers such as ACM, CSM, FPM, HNBR etc.
LSR – Liquid Silicone Rubbers
TPE, TPU moldings
thermoplastics
rubber-metal connections
rubber-plastic compounds
Customized special blends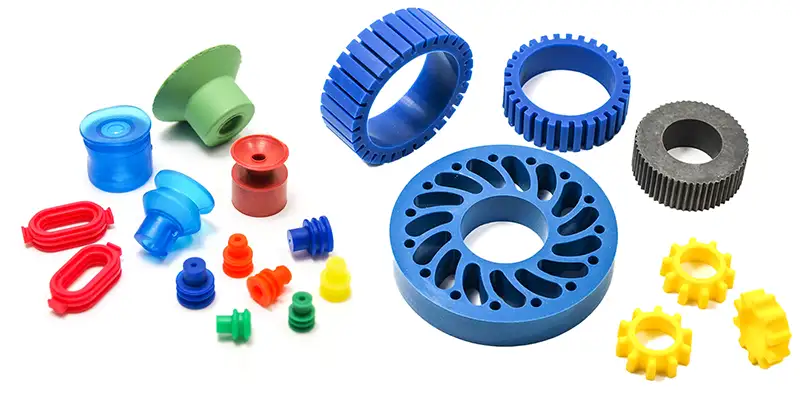 References
Our elastomer parts are used in all sectors, such as the automotive industry, medical technology, mechanical engineering, the electronics industry and the consumer goods industry.
Silicone protective covers

Protective cases made of silicone offer many advantages. They protect the hardware from dirt and scratches, reduce damage in the event of a fall and ensure better grip.
We ask custom protective cases made of silicone or LSR of different hardnesses (Shore A40 - A70). Depending on the application, an additional PU coating can be applied. Thanks to lettering, different colors and specific markings, the silicone cases also have a high level of customization. The silicone cases are adapted to the existing case.

Our
product Designer
support you in the construction of a silicone case. Prerequisite is an existing 3D file of the handheld device or a reference sample. Of course we also manufacture
custom plastic housing
.
Protective cases made of silicone offer many advantages:
Durability: Silicone is a very resistant material and offers excellent protection against bumps, scratches and other damage.
Flexibility: Silicone is a very flexible material that adapts well to the contours of the protected object. As a result, it offers a tight fit and better protection.
water resistance: Silicone is water-repellent and can therefore offer good protection against water. This is especially important for electronic devices such as smartphones and tablets.
heat resistance: Silicone can withstand high temperatures without melting or deforming. This makes it a suitable material for use in high temperature environments.
Lightweight: Silicone is a lightweight material and therefore adds little extra weight to the protected item. This makes it particularly useful for use with portable devices such as cell phones and laptops.

References
Multi-component injection molding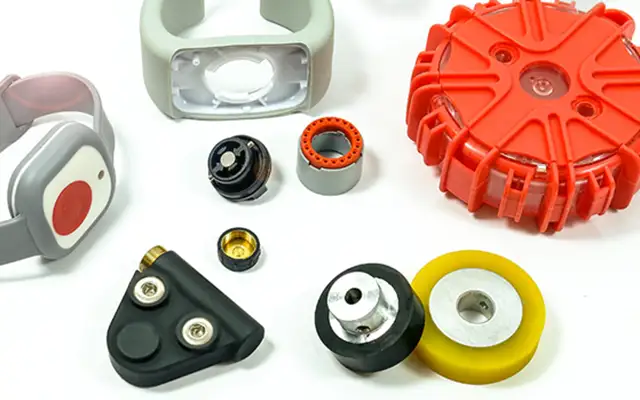 The Multi-component injection molding makes it possible to combine the positive properties of plastic and elastomer or metal in one component. This opens up a wide range of application examples.
Elastomer molded parts and plastic often appear together where the properties of a single component are not sufficient. The hard component to absorb mechanical loads, the soft component as a seal, protection or damping. In a large number of cases, two separate components are designed for this. This leads to additional investment and effort in production and quality assurance, which can, however, be reduced through clever design in the development phase.
multi-component injection moulding
New: Molding of magnets with silicone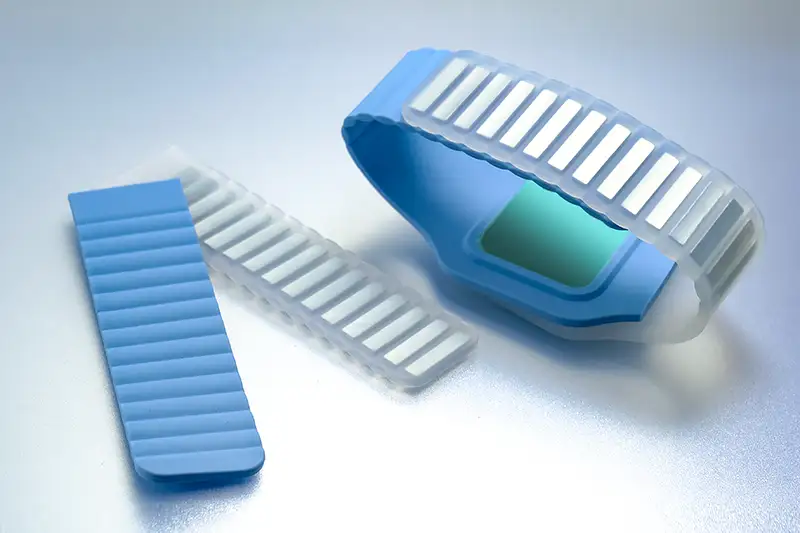 The integration of silicone coating and magnets creates innovative and versatile products. A striking example of this is our recently produced silicone bracelet with integrated magnets.
The positioned magnets are evenly spaced in the bracelet, making it easy to put on and take off the tracking watch for almost all wrist widths. This targeted placement ensures comfort and adaptability in everyday use.
The silicone coating acts as a protective shield for the magnets, protecting them from moisture, dust, chemical influences and mechanical stress. This robust protection mechanism ensures that the magnets maintain their optimal performance and durability. In addition, the silicone can be easily cleaned and disinfected, which is a great advantage, especially in times of increased hygiene requirements.
Also worth emphasizing is the critical role of temperature control in the overmolding process. Accurately controlling temperatures ensures that the silicone precisely cures and takes on the desired properties. This is essential as excessive heat can affect magnetism, while too low temperatures could result in incomplete curing.
With our many years of expertise in the field of silicone technology, we are very familiar with this technology and look forward to realizing innovative products with overmoulded magnets for you.

construction
Our product designers support you from the concept phase to the series development of customer-specific rubber parts and silicone parts. We can construct individual components as well as the entire product according to your ideas or revise the design or construction of existing products.
You decide whether you development and construction work as an individual service or we can accompany you in further steps up to series delivery.
Sketching, conception, planning and pre-construction
Construction in 3D / 2D CAD
Display of product views in the form of realistic 3D renderings
Creation of production documents such as technical drawings and parts lists
Creation of prototypes using 3D printing & silicone casting
---
3D printer prototypes
Around prototyping We have been working with well-known providers on 3D printing for years. To expand our range of services, we now offer the creation of prototypes in-house.
With the Stratasys F3 370D printer, we produce prototypes and devices made of real plastic up to a size of 355 x 254 x 355 mm with an accuracy of ±0,2 mm. In addition to the materials ABS, ASA, PLA and TPU, the materials PC-ABS, static-dissipating ABS-ESD7 and robust and chemical-resistant PA6.6 MF07 (Diran) can also be processed. With two print heads, the F370 is able to print the product material and the soluble support structures at the same time. The support structures are washed out in a subsequent ultrasonic bath without manual removal.
Example of a prototype creation in the 3D printer
We design and manufacture custom silicone parts, rubber parts, elastomer parts, multi-component injection molded parts, injection molded parts, plastic parts, molded plastic, rubber, metal and glass parts.