We realize your membrane keyboard
Benefit from our many years of experience and expertise.
For more than 20 years we have been offering our customers high quality membrane keyboards and decorative films for a wide variety of industries and applications. We advise you comprehensively on your specific requirements in terms of equipment and technical features and actively support you in the design.
Thanks to an enormous variety of design options, the membrane keyboard used in all types of electronic devices. Your ergonomic and creative possibilities are almost unlimited. The membrane keyboard is used in areas where dirt and water resistance and easy cleaning are required. It is also very robust and scores with a compact design.

In addition to high-quality
membrane keyboard
as an input element, we also carry all the matching components, such as a tailor-made
Housing
, one perfectly tailored to your requirements
cable assembly
and the required evaluation electronics. We attach great importance to careful planning and implementation of your project. Benefit from our years of experience.
For small quantities and development samples
For flexible and fast production of membrane keyboards, we offer the possibility of tool-free laser cutting. With this method, we implement short-term requirements, functional development models and smaller special series quickly and cost-effectively. Individualized printing of existing variants is also possible without any problems. Due to the elimination of punching and printing tools, the delivery time is significantly reduced. Near-series components reach the customer within just three weeks. In this way, laser cutting perfectly complements the standard process for medium and large series production.

References
Benefits
Construction
Technology
Facilities
Design
service

Advantages of membrane keyboards
Small thickness and weight

The membrane keyboard is very flat and has a low height. As a result, it is often used in devices and applications where lack of space is an issue.

Integration

Easy integration of LEDs, signal generators, sliders, controllers, rotary encoders and viewing windows for combination with displays.

Individual tactility

There are various technologies to achieve the desired tactility.

capacity

Realization through capacitive sensor foils

Design option

Almost unlimited design options.

user interface

The keyboard surface is completely closed. It is also resistant to chemicals (solvents)

longevity

The membrane keyboard is very durable due to its construction. The service life is at least over 1 million switching cycles. It is less prone to wear and damage than traditional keyboards with mechanical switches.

Low noise

The membrane keyboard is usually quieter than mechanical keyboards. It only produces a quiet click when pressed or is completely noiseless due to the key embossing.

Easy customization

The membrane keyboard easily adapts to the specific requirements and needs of the application.

EMC shielding

For applications exposed to electromagnetic interference or which may themselves generate electromagnetic interference.

Low cost

A membrane keyboard is usually cheaper than conventional mechanical keyboards.

In-house production

Our membrane keyboards are manufactured in our own production facilities with modern production facilities and class 1000 clean rooms for particularly demanding processing and assembly processes.
These advantages make membrane switches a popular choice for many applications including computer peripherals, home appliances, medical devices, and industrial equipment.
Membrane keyboard for a machine control

Structure of a membrane keyboard
The base construction A membrane keyboard consists of five basic parts: decorative membrane, upper and lower switch membrane, spacer membrane and adhesive membrane.


The decorative film forms the top layer of the keyboard and is printed on the back to ensure the best possible protection against abrasion. The foil can optionally be embossed for optimal user guidance. Instead of a polyester film, a silicone mat or another material is often used.

The decorative film forms the top layer of the keyboard and is printed on the back to ensure the best possible protection against abrasion. The foil can optionally be embossed for optimal user guidance. AnstThe functional elements of a membrane keyboard are the lower switching membrane with the conductor tracks, switching points and connection lug and the upper switching membrane with the contact surfaces. Metal snap disks or a direct imprint of the contact surfaces on the decorative foil replace the upper switching foil. It is also possible to completely dispense with the upper switching membrane. Instead of polyester, the material polyimide (Kapton) is also recommended.

The insulating foil separates the upper and lower switch foil. Corresponding recesses are provided on the contact surfaces. In the versions with metal snap disks, the spacer foil serves as a spacer and gives the metal snap disk the necessary space for actuation. The spacer film is also called a spacer.

For example: Membrane keyboard with LED – membrane composite of 8 membranes
tactility of a membrane keyboard
---
metal domes
Concise tactility
40g - 700g

Metal snap disks are used for striking tactility and high actuation forces. When the metal snap-action disc is actuated, it is pressed down and establishes contact between two conductor tracks.
Metal domes come in different sizes and shapes. Snap disks with a central recess for the LED are used for illuminated membrane keys. Depending on the model, the actuating force of a snap-action disc is 40g - 700g, and the service life is up to 10 million cycles.

key embossing
dome embossing
terrace embossing
frame embossing

Individual embossing of the keys on a membrane keyboard not only allows for an attractive appearance, but also better finger guidance and tactile feedback. The dome embossing enables tactile feedback without metal snap disks. In addition to round keys, this embossing is also suitable for square keys. For small keys we recommend the terrace embossing or frame embossing .
Reference: Membrane keyboard with embossed frame and silver finish
Capacitive membrane keyboards
Capacitive membrane keyboards use the capacitance properties of the human body to register input. There is a conductive film underneath the decorative film that contains capacitive sensors. The evaluation electronics registers the change at the point of contact and converts this into an electrical signal.
Capacitive membrane keyboards are very flat, extremely robust and resistant to environmental influences such as dust, dirt and moisture. Because they contain no moving parts, their lifespan is typically longer than that of mechanical keyboards. They can be combined very well with other technologies such as touchscreens, LCD displays or LED lighting and increase user-friendliness and functionality.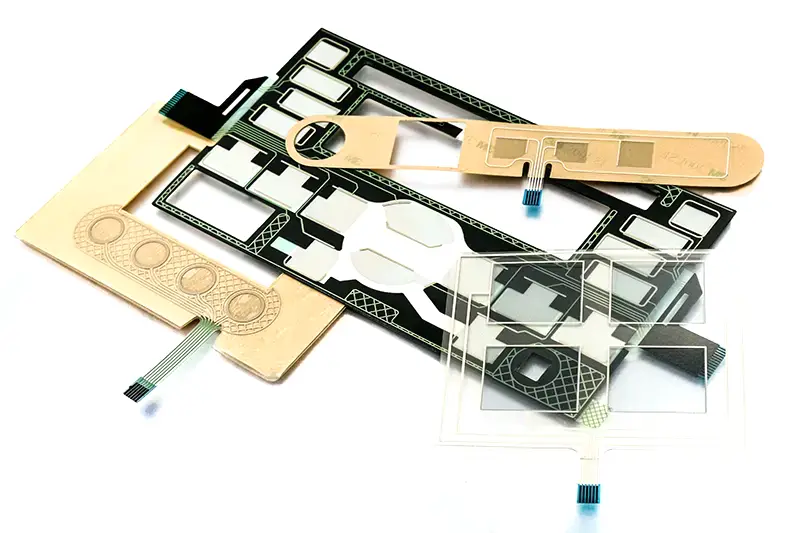 There are capacitive sensors under the decorative film.
Degrees of protection
---
A reliable and trouble-free function of input devices is of crucial importance in many industries, especially in medical technology. Insufficient shielding against electrical or electromagnetic effects leads to malfunctions and interference, especially when using several electrical devices in one place. A membrane keyboard with EMC shielding prevents this with an aluminum or copper-coated polyester foil that is integrated into the keyboard. This effect not only avoids the penetration of unwanted signals, but also a disturbance in one's own electromagnetic environment. If the keyboard has integrated displays, a segmented EMC shielding of the keyboard and conductors is used.
Circumferential seals prevent the ingress of moisture, which protects the membrane keyboard from short circuits. With this protection, the membrane keyboard can achieve a protection class of up to IP67, which makes it ideal for use in damp or dusty environments.
Equipment of membrane keyboards
Membrane keyboards are equipped with various features to ensure optimal operation and user-friendliness.
Illumination options of membrane keyboards
Membrane keyboards are backlit by integrating an LED switching membrane or a switching membrane with built-in LEDs. Special adhesives and sealing materials ensure the functionality of the LEDs even in demanding environments with strong vibrations.
With LGF technology, LEDs are used on the edge of a highly refractive foil that is only 0,1 to 0,2 mm thick. In contrast to conventional lighting technologies such as LEDs, LGF technology achieves complete and even illumination of the entire keyboard with just a few light sources. This makes the technology particularly advantageous for use in devices with limited space and a compact design. Each key can be backlit in different colors. The flat design and the flexibility of the membrane keyboard are retained.
The LGF technology not only enables the keyboard to be evenly illuminated, but also the use of special effects such as this
vanishing effect
. This is an inscription that is invisible when not illuminated and only appears when it is illuminated. Unique designs and visual effects can be achieved with this technique.
Rotary encoders / signal transmitters / capacitive control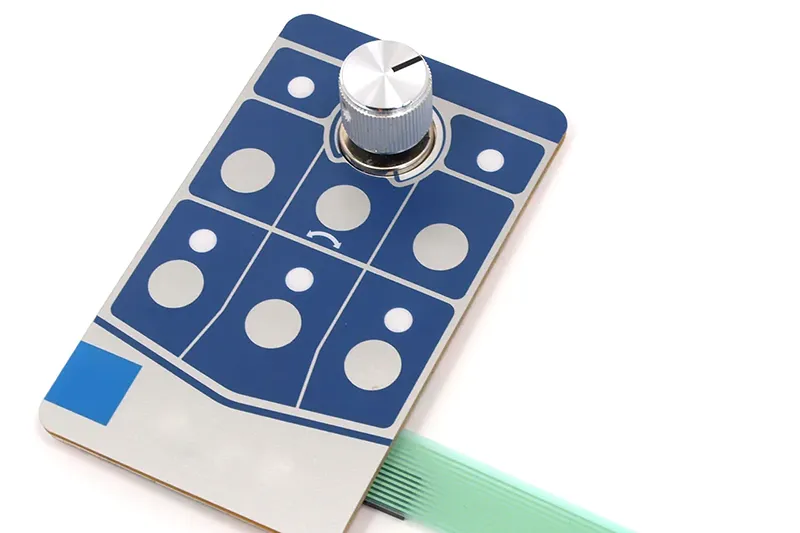 Thanks to Duraswitch technology, encoders and cursor controls are seamlessly integrated into membrane keyboards. In comparison to separate solutions, the integration is significantly more cost-effective since wiring and soldering processes are no longer necessary. The integration of flat piezo buzzers in membrane keyboards leads to a more compact and space-saving design.
Viewing window / touch panel
Keyboard & Touch
advantages of both worlds

An effective and economical combination of modern display and proven keyboard technology enables the advantages of both worlds to be used. There are various options for integrating displays into membrane keyboards. Simple variants are punching out the display area or integrating a viewing window. These are individually specified in versions such as glossy, matt, anti-reflective, scratch-resistant, UV-resistant and colored. If there is a touch panel under the viewing window, a highly transparent adhesive layer with a light transmittance > 99% is used. This avoids the formation of Newton's rings. Bonding takes place in a clean room.
Hand pockets
Practical solution and quick customization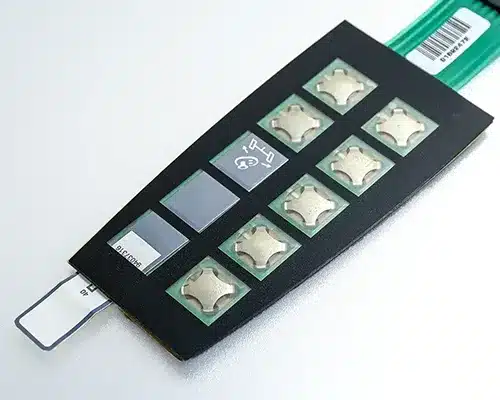 With slide-in pockets, membrane keyboards offer an extremely practical solution for individually labeling the keys. Simply slide the printed slide-in strips into the corresponding pockets above the keys - and you can easily adapt the key labeling without having to replace the entire keyboard. This is particularly beneficial when a device's features or commands change, or when multilingual labeling is required.

support plate
Ideal solution for front mounting

For reinforcement, the membrane keyboard is mounted on tailor-made carrier plates. Aluminum plates are used as standard, possibly with press-in bolts for easy assembly. The membrane keyboard is glued to the carrier plate over its entire surface. A complete assembly with display and printed circuit board is also possible. Depending on the installation situation, also with an integrated seal.
Design options of membrane keyboards
Membrane keyboard in screen printing / digital printing
Membrane keyboards are printed on the back. This achieves a particularly long service life for the print and the print is protected from abrasion and wear. The common methods are:

This method is often used in the production of membrane keyboards. The lettering is printed on the keys by applying the ink to the film through a screen. Screen printing is a cost-effective method of producing membrane switches with high durability and durability.

This method is particularly suitable for printing color gradients and photo-realistic graphics and allows greater flexibility when designing the membrane keyboards. Digital printing is particularly suitable for prototypes, one-off production and small series, as there are no costs for the production of screens.

Membrane keyboard with silicone keys / silicone cover
---
Membrane keyboards with silicone keys offer a non-slip key surface and convey the feeling of a high-quality keyboard. The key shape is implemented in various geometries. Alternatively, the decorative film can be replaced over the entire surface with a silicone layer and protruding keys with free shapes, guide elements such as separate rings around a key, Braille lettering or cursor keys can be implemented. These robust and durable membrane keyboards with a silicone cover are often used in industry. Depending on the requirements, the surface coating is adjusted.
Membrane keyboards with doming technology / epoxy finish
---
An effective method for implementing three-dimensional keys is epoxy finishing. Instead of embossing, an epoxy material is applied to the key surface. Due to its high transparency, this creates a particularly elegant and shiny surface, gives the keys a raised look and ensures a pleasant feel. The design options are almost unlimited and are individually tailored to the customer's requirements.
Surface structures of membrane keyboards
---
Special decorative foils allow a wide range of surface structures. The options range from classic high gloss to a soft satin finish. In addition, specially embossed foils achieve a metal look or carbon look effect.

Development

Thanks to our many years of expertise in the field membrane keyboards we offer you a comprehensive full service. Our engineers actively support you in the design and construction phase and in the selection of suitable materials. On request, we can make suggestions for improvement or work out options for reducing costs.
In-house production
We manufacture membrane keyboards in our own production facility in Asia. The dedicated on-site team includes over 100 specialists, including experts in research, development, project management and quality control with years of expertise in the production of input solutions. The production facility includes modern manufacturing facilities from Japan, the USA and Taiwan, as well as Class 1000 clean rooms for particularly demanding processing and assembly processes.
Your Request
For an initial offer, we need a technical drawing, a first sketch or a sample, as well as technical specifications and information on extra equipment. Please also tell us the required quantity or the annual requirement. We would be happy to conclude a non-disclosure agreement / NDA with you in advance.
Contact us under info@nh-technology.de. We look forward to your inquiry!
The N&H sample set includes a special sample silicone keymat with a variety of buttons and constructions, as well as a sample membrane keyboard with the various equipment options.
Specialist article on input keyboards